How-To Package And Ship Fragile Items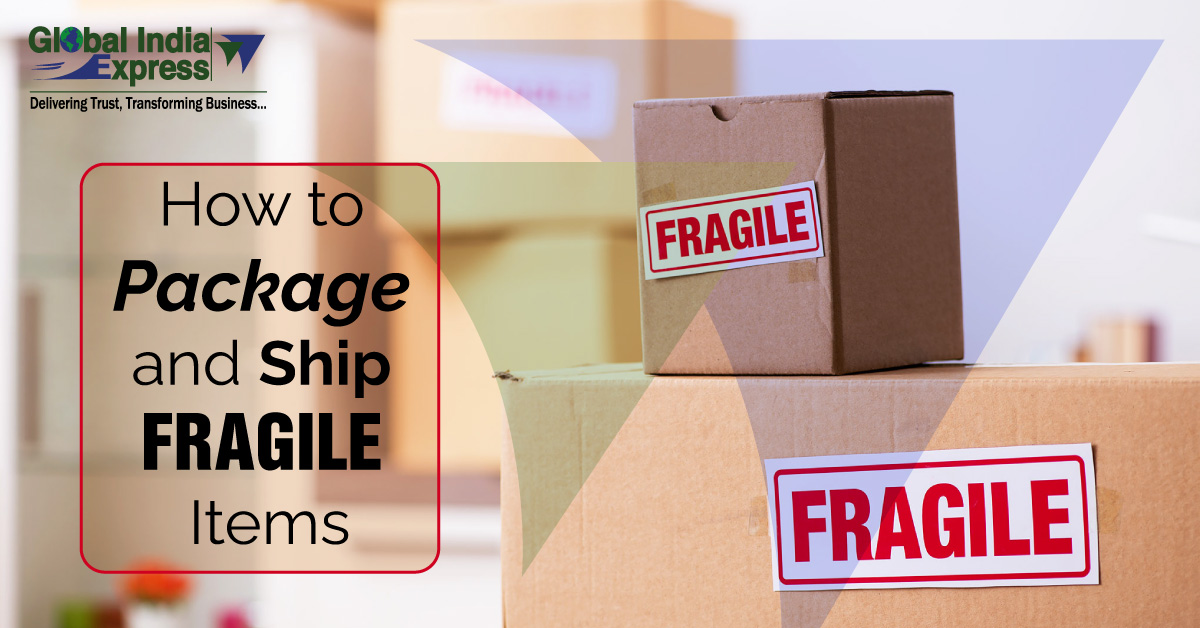 Most of the time, dealing with fragile objects can be a challenge. Because of their proneness to breakage and damage, they must be handled with extreme caution. The delivery may take longer, but in the end, the additional effort spent bringing the item to its destination safely will be well worth it. Fragile things must be packaged, transported, and delivered as a unified procedure. Let's look at some of the subtleties of fragile packaging items.
Fragile objects might be tough to pack, but cautious handling of the items can ensure that they don't break.
What Makes an Item Fragile?
The fragility of some items can make them more susceptible to breaking or being harmed than others. These fragile goods are well-known to be vulnerable to damage. Things made of glass, tiles, jewellery, cutlery, etc., could be examples. With the potential for harm, fragile goods should be handled with care and tenderness.
When relocating to a new home, delicate items can be the most difficult to migrate. Most of the time, these goods can be worth a lot of money or heartfelt memories. Thus, care must be given when handling and delivering such items to arrive in one piece.
As a result, we've all heard stories of people destroying expensive items like TVs or fine china due to carelessness and improper handling. How to transport sensitive items safely from one location to another is essential if you want your valuables to last.
How Do You Safely Ship Fragile Products?
Packing Boxes for Small Items
Fragile things are typically packaged in only slightly larger boxes than the object itself. This way, the product is prevented from moving around because there are no vacant places. Using this method, the package is held and can't be moved.
Dunnage can be used to fill in any empty spots. This will protect the product from being damaged by shipping friction.
You should also use thick tape and secure the package more than once to prevent it from opening even in the most challenging conditions.
Shock Absorbing Materials
A protective layer of questionable material must always be added to the fragile item. Using bubble wrap, for example, helps ensure that the product is appropriately covered in the event of an impact. To put it another way, no matter how much pressure your product is under, it won't break easily. You can choose from a variety of cushioning materials for delicate objects.
Limit the movement of products
When shipping a fragile item, you'll want to keep it from moving around too much. This is a critical step if you want your product to withstand any damage.
Another simple but helpful filler for shipping boxes is crumpled newspaper. Place roughly two inches of crumpled paper between the item and the box wall for optimal effects.
Foam nuts or Peanuts in a Bag
Packing peanuts or foam nuts should be used to fill the empty spaces in the box once your fragile item has been placed inside.
As a result, the product will be more resistant to damage and more shock-absorbing. It acts as an additional barrier between the product and the outer package.
Packaging in two boxes
Double packing is required for valuable and delicate commodities. The box-in-box technique can be used in the double-box packaging method.
This small box can be placed within a larger package, which can then be placed inside another smaller box, which can then be filled with nuts or other dunnage.
Corrugated boxes, made of several layers of paper, are ideal for packaging these items. Depending on your needs, you can select from various corrugated box strengths.
Fragile Sticker Adhesive to Label
Finally, the package must be marked with the words 'FRAGILE' or 'HANDLE WITH CAUTION.' This lets the person handling the product knowledge to take extra precautions to prevent damage or cracking of the product's internal substance.
A note in the app or a printed label with this information is acceptable for conveying the message.
Is there a better way to pack delicate items?
There are a few things to keep in mind when packing delicate objects. When long-distance travel is involved, they can guarantee safety and non-breakage. Towels or rags and any textile can be used to fill dishes and glasses, as can cardboard, cartons, bubble wrap, newspaper, or packing paper. Foams and polythene bags can also be utilized to package fragile things.
Is the labelling of the Package Fragile Helpful?
It would help if you told the person transporting things that they must be careful with what they are handling. Items might be damaged if they are subjected to rough treatment. They can take suitable procedures to guarantee that the object is carried safely and gently.
To facilitate transportation, it's always a good idea to label a package "fragile" or "handle with care."
The risk of harm to your delicates is significantly reduced if you follow the tips mentioned above. You don't have to worry about your goods being damaged in route.
Global India Express - Best Internalation Courier Service
100% FREE PICKUP AND PACKAGING SERVICE